UK
Von der Leyen takes swipe at UK over 'transparency' in vaccines row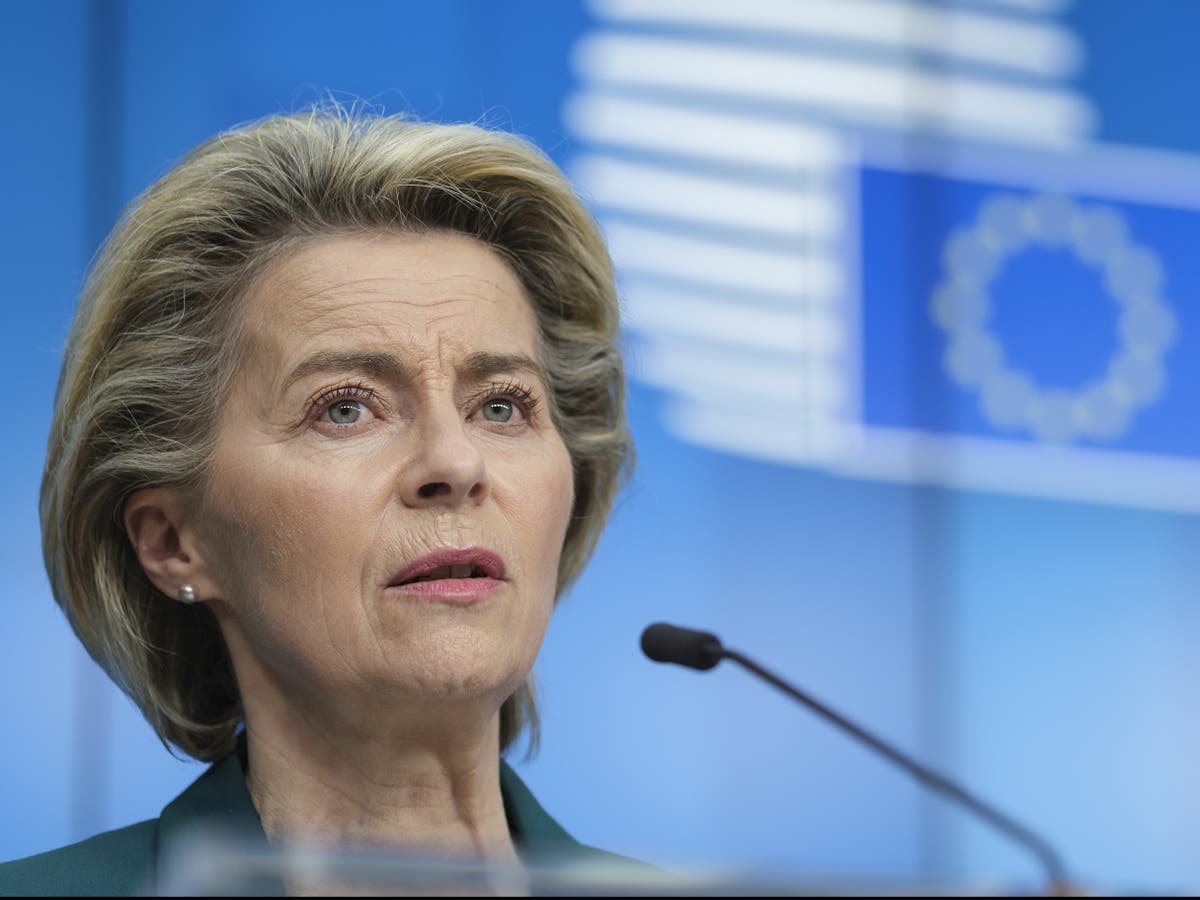 European Commission president Ursula von der Leyen has taken a swipe at the UK over "transparency" on vaccine exports, casting fresh doubt on hopes for a resolution to the ongoing dispute between London and Brussels over jabs.
Europe's top official said she had not seen any evidence that any British-made vaccines had been exported, despite EU-made doses going to into the UK.
The tone was in contrast to an earlier joint statement that said Britain and the EU were hoping for a "win-win" to end tensions.
Speaking after an online summit of EU leaders, Ms Von der Leyen said AstraZeneca "has to catch up, has to honour the contract it has with the European member states, before it can engage again in exporting vaccines".
She added: "We have worldwide supply chains that have to be intact and it is of the utmost importance that we get back to an attitude of openness."
Read more:
Asked about how many vaccines the UK had exported, she told reporters: "I have no knowledge so far of UK exports, perhaps I am mistaken and waiting for their transparency."
So far some 31 million doses of vaccine have been administered in the UK to more than half of the adult population, compared to the more than 60 million jabs given across EU countries containing a total population of 446 million.
As a result, the bloc has enacted a policy allowing member states to block shipments of jabs due for export in the event the immunisations are needed within the European Union.
Tensions have persisted between the bloc and the UK throughout their respective vaccine rollouts. The UK maintains that it did a better job of securing cast-iron vaccine contracts quickly, while the EU side believes Britain should share more with the continent.
Read more:
Meanwhile, Angela Merkel told the summit the EU was hoping for"a win-win situation … that is, we want to act in a politically sensible way".
Limiting trade in vaccines has proven to be an ideological sticking point in Europe, with some officials believing it serves a necessary purpose while others claim it undermines the bloc's reputation as a free trading union.
Seeking to counter accusations of "vaccine nationalism", Ms Von der Leyen presented slides showing that 77 million vaccine doses had been shipped from EU plants to over 40 countries since the start of December.
Belgian prime minister Alexander de Croo said that he believed the dispute "can be resolved" as he referred to a phone call with Mr Johnson last week.
"We think that the discussion we have with the United Kingdom can be resolved based on good agreements," Mr De Croo told a Brussels press conference.
Dutch prime minister Mark Rutte echoed that, saying he was "cautiously optimistic".
"I think that on Saturday or soon after, they could come to an agreement which would be very helpful because we are friends, the UK and the rest of Europe, and we need each other," he told reporters.
Additional reporting by Reuters
Source link